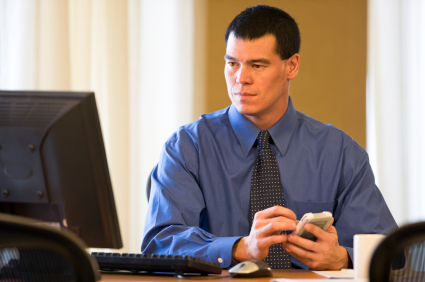 The CHP Designation is the only certification program designed exclusively for those professionals who work in the hedge fund industry or for service providers who would like to better understand and serve hedge funds as clients.
The CHP designation is a two level program with CHP Level 1 teaching you hedge fund fundamentals and investment strategies and CHP Level 2 allowing you to customize your training in a niche area such as Hedge Fund Marketing & Capital Raising, Hedge Fund Portfolio Analytics & Risk Management, or Hedge Fund Due Diligence.
The CHP designation Program is unique in that it is modeled after many online courses offered at Ivy League institutions today. The CHP designation is a self-study program, and the test itself is administered online. The online exam is structured so that to complete the exam within the two-hour time frame one must read through all of the assigned materials and conceptually understand the majority of the material. Our goal is to offer a challenging program while also providing all of the learning tools possible to ensure participants get the most out of the experience.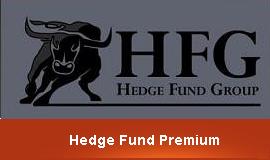 Within the CHP Training Program you will receive access to 170 educational videos, two dozen audio interviews with industry experts, templates, books, career training and exclusive hedge fund tools through our Hedge Fund Premium training platform which is regularly updated with resources to supplement the CHP's required readings and coursework.  Additionally, for those looking to start a hedge fund career or advance beyond their current position, we offer access to our career and job placement services which include: career coaching, recruiter connections, resume feedback, a hedge fund career workbook, internships, and a hedge fund résumé template.
In addition to the benefits of gained knowledge, growing industry recognition, more knowledgeable career choices, and networking, our organization is also building in additional resources for CHP designation participants. This includes a Hedge Fund Jobs Guide, Directory of Hedge Fund Employers, Free Resume Tips & Advice, and Hedge Fund Email Alerts.
Pass Rates: Below is a chart showing the pass rates for each of the four examinations that we offer, including CHP Level 1 on Hedge Fund Fundamentals, CHP Level 2: Marketing, CHP level 2: Portfolio Analytics, and CHP Level 2: Due Diligence. While we are working to make our examinations psychometrically sound and challenging, we are not trying to fail 50-60% of participants, and our chief focus is on making sure our overall program delivers a great amount of value to each participant.

Backed by An Industry-Leading Organization and Board of Advisors
The CHP designation is sponsored and offered by the Hedge Fund Group (HFG), an industry networking association with a global membership of over 100,000 individuals. The Board of Advisers for the Hedge Fund Group (HFG) consists of over 50 hedge funds, fund of hedge funds, and industry consultants, making this hedge fund certification program not only designed for hedge fund professionals but also by hedge fund professionals.  To learn more about the Hedge Fund Group and our Board of Advisors, see About Us.
The CHP designation has been mentioned over 50,000 times online by leading websites including Alpha Magazine, Financial Times, WSJ Fins, MarketFolly, Seeking Alpha, Wall Street Post Game, Distressed Coalition, and Team Hedge Fund. Our program is linked to and discussed daily in the industry, and it is now the industry standard designation being recommended by hedge fund principals, hedge fund recruiters, and preferred within job listings.
CHP Program Growth: Below is a graph showing the growth of the CHP Designation program over the past three years of 2008, 2009, 2010, 2011 and 2012. We have now served over 1,400 participants.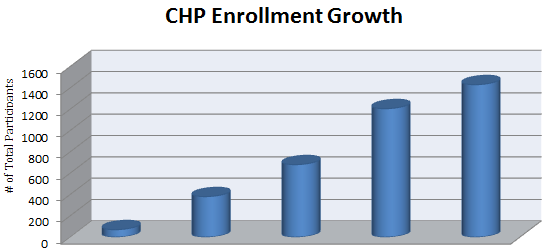 Participants in the CHP Program have included:
•  Analysts
•  Hedge Fund Principals
•  Traders
•  Due diligence professionals
•  Hedge fund managers
•  Third Party Marketers
•  Professors & trainers
•  Commodity Trading Advisers (CTAs) & Forex Fund Managers
•  Lawyers
•  Accountants
•  Recruiters
•  Graduate Students
•  Marketing/sales & investor relations professionals.
Geographical Disbursement of Participants: The chart below shows where participants in our program are based. When our program started, it was most popular in North America but now Europe and Asia are the two fastest-growing segments of our participant locations with global participation on the rise.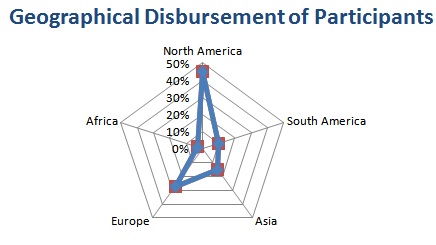 Video Quotes from Participants
Watch video quotes and read feedback from over 90 current and past participants by clicking here.
CHP Level 1 Study Guide (Printable)
View the CHP Level 1 Study Guide below or download it by right clicking and choosing "Save Link As": PDF Format. Also view an overview of the CHP Level 1 Study Guide in Video form and listen to it in audio form here.
PowerPoint Overview (Printable)
View the CHP Program PowerPoint overview below or download it by right clicking and choosing "Save Link As": PowerPoint Format | PDF Format
CHP Level 2 in Marketing & Sales Certificate: Certificates are awarded and mailed out for CHP Level 2 graduates; here is an example CHP certificate:
Read Over 90 Testimonials from past and current CHP Designation Program participants. Learn why professionals in the field are enrolling in this program by clicking here.